World-leading Specialty Electrolyzer Stacks
Giner's expertise in PEM electrolysis is founded on the innovative work of many of the original developers of the technology for the Gemini Space Program.
For 30-years scientists and engineers such as Tony LaConti and Bob Milgate Jr. pushed PEM electrolysis forward at Giner and that work continues — and accelerates.
Giner has developed a unique portfolio of expertise: pushing the technical frontiers to deliver results in the most demanding environments.
High-Pressure Oxygen (O
2

) for Life Support on Submarines....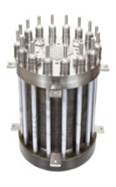 Proton-exchange membrane (PEM) technology is now preferred for this most mission critical of applications because of its demonstrated durability (30,000+ hour lifetime), compactness, cleanliness, and reliability.
Our most recent Navy electrolyzer stacks utilize advanced technology to support high differential pressures that allow for the generation and eventual elimination of by-product hydrogen at elevated pressure, while supplying breathing oxygen directly to the crew on demand.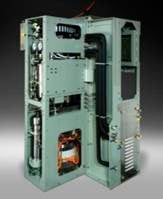 Proprietary membrane designs enable extremely high purity levels of product gas exceeding 99.999% oxygen. Our PEM cells also operate at much higher current densities than the alkaline electrolyzer units they have replaced. This has enabled reduction of the size of the oxygen generation system by more than 60%, freeing up valuable space.
We are recognized as the technology leader in high-pressure electrolyzer stack operation. Producing one or both gases at high pressure eliminates the need for gas compressors, which can be bulky, troublesome, costly, dirty, and noisy. With our partner, Treadwell Corporation we supply electrolyzers for both Seawolf-Class and Ohio-Class submarines.
...and in Space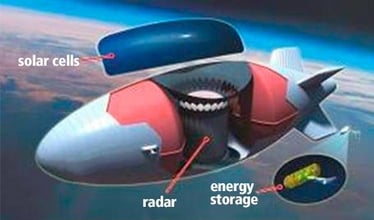 For aerospace applications it is again vital for the electrolyzer to operate at significant pressures so that the gaseous fluids can be stored in reasonable volumes with minimal mass. Giner has worked with private and public sector organizations to design, fabricate, and operate ultra-lightweight high-pressure electrolyzers capable of producing high purity gas streams at pressures of 0 to 80 bar and we are currently developing designs for 140 bar operation for NASA.
In addition, Giner has developed a state-of-the-art vapor-feed electrolyzer stack for aerospace applications. This approach allows substantial simplification of the balance-of-plant: less weight and less space means a major value dividend for NASA and for a new generation of private space companies.
Laboratory Hydrogen Generators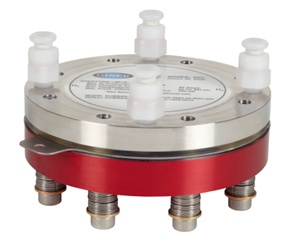 Giner is one of the world's leading suppliers of laboratory hydrogen (H2) generators. Our electrolyzers are extensively used by leading system manufacturers around the world to provide laboratory hydrogen for applications such as flame ionization detectors, and carrier gases for instruments including mass spectrometers and gas chromatographs.
Contact us to find out more about Giner's expertise in Specialty Electrolyzer Stacks.