Cell and Tissue Preservation
Giner Life Sciences is pursuing innovative new approaches to the application of oxygen for the preservation of:
Transplant organs
Islets inside implantable capsules
Other cells or clusters of cells inside implantable capsules
Transplant Organs
The initial focus of our work on transplant organ transportation has been on the pancreas.
The Giner Portable Pancreas Preservation System (P3S) is a transportation device for a donated pancreas organ, which incorporates an on-demand oxygen generator. This generator supplies oxygen to the vasculature of the pancreas as soon as possible after it is donated and then continuously until the organ is ready to be transplanted into the recipient.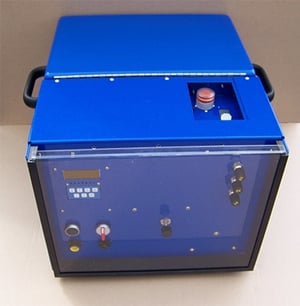 Our research is showing clear benefits to the quality of the pancreas when oxygenated in this way. Islets are clusters of cells inside the pancreas, which produce insulin in response to glucose level signals from your blood. Islets are highly sensitive to lack of oxygen: any period of oxygen deprivation can result in permanent damage to the ability of islets to manufacture insulin.
The P3S device has been used to preserve donated pancreas organs in trials in the US, Canada, the UK and in Australia. (McGill University Health Centre conducts first islet cell transplant in Quebec) We are about to complete work on a new model of the device, which has been designed and will be manufactured to full medical device regulatory standards.
Oxygenated Islet Capsule Implants
Islet capsules have been for many years the holy grail of treatments for diabetes and for Type 1 Diabetes in particular.
The promise of islet capsules is fully natural, long term insulin regulation without the need for any immuno-suppression: in other words a treatment that works for both kids and adults, with no more blood testing multiple times every day and no more dread of hypoglycemic episodes overnight.
However, in spite of small-scale successes, islet capsules have not yet fulfilled this promise. The key barrier is that in order to get sufficient islets into a manageably-sized capsule to deliver insulin for an average-sized human, the islets have to be densely packed. When islets are densely packed into a small capsule, the islets cannot get sufficient oxygen to enable them to function or even survive.
The key Giner team innovation is to attach a miniature, implantable oxygen generator to the islet capsule. We have demonstrated that with non-stop oxygen supply, an islet-filled capsule will provide completely natural blood glucose regulation.
And with stem-cell derived and porcine islets getting closer and closer to commercial reality, there is a realistic prospect within 3 to 5 years of having an essentially inexhaustible supply of islets: which means islet capsules would at last present a meaningful treatment option which measures up to the global scale of the Diabetes challenge.
For more information please see the Giner Life Sciences company web site.