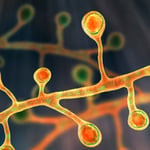 December 2022
A novel biosensor for ultrasensitive detection of fungal genes
We are pleased to share our recent publication in ScienceDirect on development of a practical and economical test for on-the-spot detection of fungal genes for diagnosis of endemic fungal diseases. The test provides a level of accuracy normally associated only with time-consuming and expensive laboratory testing. Building on Giner's biosensor initiatives, this work will develop a robust, intuitive, and low-cost testing platform that utilizes an electrochemical sensor with nucleic acid probes specific for the targeted fungal gene sequences. We thank our collaborators at the J. Craig Venter Institute (La Jolla, CA) and NIH/NIAID SBIR program for funding.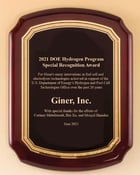 June 2021
Giner Receives Special Achievement Award for Innovations in Fuel Cells and Electrolyzers from US Department of Energy
At the Annual Merit Review of the US Department of Energy Giner received the high honor of a Special Achievement Award for 2 decades of outstanding innovations in fuel cell and electrolyzer technology.
"This award recognizes Giner, Inc., represented by Hui Xu, Monjid Hamdan, and Cortney Mittlesteadt for outstanding contributions to advancing the state-of-the-art in fuel cell and electrolyzer technologies. Over the past 20 years, DOE's Small Business Innovation Research/Small Business Technology Transfer Office and Office of Energy Efficiency and Renewable Energy's Hydrogen and Fuel Cell Technologies Office (HFTO) have funded Giner, Inc. (Giner Electrochemical Systems and Giner ELX) to research, develop, and demonstrate a vast array of electrochemical technologies to support HFTO objectives, from novel polymer electrolyte membrane (PEM) fuel cell components for automotive applications (e.g., non-platinum-group-metal catalysts, dimensionally stable membranes, hydrocarbon membranes, bilayer gas diffusion layers, high-oxygen-permeable ionomers, and electrodes fabricated for high durability) to advanced high-efficiency, low-cost anion exchange membrane (AEM) and PEM electrolyzers for hydrogen fuel generation, and reversible fuel cells for renewable energy storage and power generation. Giner, starting out as a small business in 1973, has grown by leveraging key innovations and expertise into commercial success with its spin-offs Giner Life Sciences and Giner ELX (which was recently bought by Plug Power in 2020). Giner, Inc. remains a strong source of innovation in the U.S. hydrogen and fuel cell industry, and we look forward to future achievements."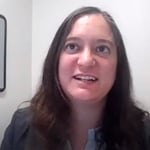 march 2021
Dr. Judith Lattimer Features in US Department of Energy Webinar
Giner was one of 3 small businesses introduced by the US Secretary of Energy Jennifer Granholm as part of a webinar "SMALL BUSINESSES WITH BIG IMPACT". The webinar celebrates the contribution that small businesses have made and will make to the decarbonization of the US and the world economy. In the webinar discussion led by Jennifer Granholm, Dr. Judith Lattimer from Giner points out that green hydrogen is now widely regarded as one of the keys to making decarbonization happen, and Giner has been and remains a leader in developing world leading green hydrogen technologies. Watch a video recording of this event.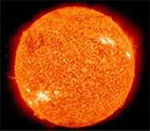 March 2021
Solar Energy DIRECT to Green Hydrogen
Giner, Inc. will receive $1.1M to develop a device to convert solar energy and water directly into storable hydrogen fuel. This project will integrate novel anion exchange membrane technology, electrocatalysts and photoelectrodes, and Giner's well-established water electrolysis platform. This solar-powered water-splitting device will directly generate hydrogen and oxygen from water, with efficiencies greater than 10% and stability of over 1000 h, using only sunlight as an energy source. This project is a collaboration between University of Pittsburgh, Versogen, and Giner.
"We can't wait to continue working on this important and transformational technology to help producing clean, sustainable green hydrogen, which is critical for a zero emissions future.", said Dr. Judith Lattimer, Senior Project Scientist and Principal Investigator for the project.
Dr. Hui Xu, the CTO of Giner Inc. commented, "Giner is delighted to be awarded this exciting project. This sunlight to H2 technology represents one of a portfolio of technologies that Giner has been developing with the support of the DOE. Giner has been a pioneer for the production of green chemicals utilizing renewable energy. We are committed to decarbonizing our society through relentless innovation."

May 2020
Dr. Hui Xu Honored by UCONN
Giner Labs is proud to announce that Dr. Hui Xu, our Director of Energy Conservation Materials, has been selected for induction into the 2020 University of Connecticut Academy of Distinguished Engineers. This selection reflects Hui's many achievements in the areas of PEM fuel cells and electrolyzers, as well as lithium ion and lithium sulfur batteries made during a decade of research and development at Giner Labs. Dr. Xu received his PhD in Chemical Engineering from UConn in 2005, and was named "top ten innovator" by Innovation for the Cool Earth Forum in 2018.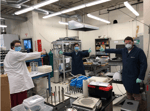 May 2020
Giner Labs Team Goes the Extra Mile to Deliver Ventilator Parts and PPE
From the Daily Update from the leader of the Newton Needham Chamber of Commerce:
"....like many of us, Giner Labs shut-down operations and sent most of its 70 Newton employees home on March 16.
Only not everyone. A small team was allowed to continue to work on essential programs for the defense department and NASA.
Others, including Dave Markham, a mechanical engineer, put his expertise in specialized equipment such as 3D printers and laser cutting tools to volunteer to help the Mass General Brigham Center for Covid Innovation to craft desperately needed electro-mechanical parts for ventilators.
Dave also sourced materials to make face shields, using Giner's laser cutter.
Over the course of three weekends (while wearing appropriate PPE and social distancing) Dave and his colleagues -- Katie Butler, Ben Zackin, Tatiana Anthony and Wenjing Kang -- turned out fifteen ventilator parts and hundreds of face shields."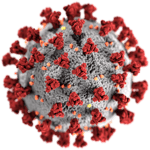 March 2020
Giner Labs Responds to The Covid -19 Outbreak
In light of Governor Baker's decision to close schools and limit the size of social gatherings, as well as the recent uptick in Covid-19 cases across the state, we have decided to temporarily shut down our facility until further notice. This action applies to all of our employees, who will now be working from home, except those working on essential programs for the Department of Defense and NASA. Those personnel will be required to wear appropriate PPE, and keep their distance from each other. "We hope that by taking this action Giner Labs will help to flatten the curve, and keep our employees and their families safe," said CEO Cortney Mittelsteadt.

November 2019
37th US Navy Submarine League Symposium
As a select participant in the Navy's SBIR Transition Program, Giner Labs was proud to exhibit at the Naval Submarine League's 37th annual symposium held in Arlington, Virginia from November 6-7, 2019. The symposium provides the opportunity for the Navy and contractors to meet in person, discuss new technologies and share ideas on future needs. Our involvement with the symposium stems from a compact hydrogen fuel cell system that we are developing under an Office of Naval Research (ONR) contract for medium and large diameter Unmanned Underwater Vessels (UUVs). Incumbent power solutions such as lithium batteries provide limited operating time, while diesel-electric systems require periodic surfacing to snorkel depth. The Navy is looking for solutions that provide air independent operation, as well as extended mission range. Giner's compact, lightweight hydrogen system offers the best option to meet these requirements. According to the Giner Labs' Project Leader, Jason Willey, "Our unique, internal water management cell design eliminates the need for external components like pumps, reducing the size and weight of the system."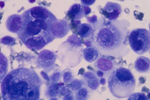 September 2019
Giner Receives NIH Fast-Track Award to Develop a Rapid, Noninvasive Molecular Diagnostic Test for Lung Cancer Targeted Therapy Guidance
Giner has been granted an NIH/NCI Fast-Track award to develop a sensitive, rapid, multiplexed sensor for noninvasive detection of tumor DNA mutations in blood samples of non-small cell lung (NSCLC) cancer patients. Up to 1.6 million deaths each year are attributed to lung cancer, which is more than the deaths caused by colon, breast and prostate cancer combined. 85% of all lung cancers are NSCLC, and the disease is notoriously difficult to treat as the vast majority do not present themselves until the disease has progressed to later, incurable stages. The five-year survival rate for late stage lung cancer patients is only 4%.
Therapies targeting genetic mutations in NSCLC have been developed over the last few decades, providing longer periods of disease-free progression survival, but patient response to these drugs and therapy optimization depends on the mutation state of the tumor. A surgical biopsy can be used to test for lung cancer genetic mutations in patient tissue samples, but this is an invasive procedure that cannot be performed repeatedly. There is an urgent need for improved blood-based liquid biopsies to aid the detection of circulating tumor DNA (ctDNA). Liquid biopsy assays will revolutionize cancer treatment because ctDNA is a very specific cancer biomarker that can be collected non-invasively, thus addressing the challenges of traditional invasive tissue biopsies.
According to the project principal investigator, Dr. Castro Laicer, Giner's ctDNA sensor technology will "help increase access of personalized therapies to NSCLC patients for better treatment outcomes, and offer a compelling competitive advantage over gold standard digital PCR tests in terms of lower cost, minimized sample preparation requirements, increased multiplexed detection, and a much faster sample-to-answer turnaround time".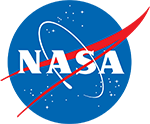 June 2019
NASA Awards Contract for Next Gen Lunar Electrolyzer
Giner and its partner Paragon (Paragon Space Development Corporation, based in Tucson Arizona) are proud to announce they have been awarded a contract by NASA for the development and testing of a next generation water purification and oxygen / hydrogen generation system for use on the moon and beyond.
This patent-pending system purifies naturally occurring deposits of water on the moon (or other destination) and generates oxygen for life support and hydrogen for fueling. The practice of "in-situ resource utilization" (ISRU) will increase the safety and affordability of human spaceflight by reducing the need to launch water, oxygen and hydrogen supplies from Earth and thereby facilitate extended stays on the lunar surface and further exploration of the solar system.
Corky Mittelsteadt, the CEO of Giner Inc., commented: "Giner is delighted to be a key contributor to this project; our patented, space-optimized lightweight electrolyzer technology is the product of over 30-years of PEM technology investment and innovation with NASA for life support, energy storage and ISRU."
Read the entire article at AZ Big Media.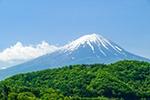 November 2018
Giner Wins International Prize for Innovation
Giner has been named a "top ten innovator" for 2018, alongside leading companies and institutions such as Tesla, Alstom and UCLA. This prize honors the groundbreaking work in the manufacture of ammonia by Dr. Hui Xu and his Giner team in collaboration with the State University of New York at Buffalo, the University of Delaware, NREL and the ARPA-E Program.

The ICEF (Innovation for Cool Earth Forum) is based in Tokyo, Japan. Every year it selects 10 innovations with the potential to transform society in the fields of energy and the environment.
"It is a great honor for Giner to be named by ICEF as a top 10 innovator for 2018" said Dr. Xu. "Our project's objective is to achieve a 30% reduction in the cost of ammonia production compared to the traditional Haber-Bosch process through comprehensive innovations in catalysts, high temperature membranes and state-of-the-art electrolysis cells". To learn more about the project, download the pdf.
Dr Corky Mittelsteadt, the CEO of Giner Inc, added that "Giner has a proud record of innovation in electrochemistry over close to 5 decades. We push the frontiers of our technologies in outer space, under the oceans, and even inside the human body. We are proud to win such a prestigious international prize in the company of global companies such as Alstom and Tesla."

NOVEMBER 2017
Dr. Jose Giner, 1928 - 2017
We regret to announce the death at 89 of our founder Dr. Jose Giner. He passed on Saturday November 4th peacefully and surrounded by family, after a short illness. His wit and spirit were strong until the end of a remarkable and bountiful life.

October 2017
Antibacterial Coating Wins Award at Defense Innovation Summit
We are proud to announce our selection as a 2017 TechConnect Defense Innovation Awardee. Only 15% of all innovations submitted to the Defense Innovation Summit (DITAC) were selected for this Award. Rankings are based on the potential positive impact the submitted technology will have for the warfighter and national security. The technology receiving the award is an innovative antibacterial coating technology. Dr. Avni Argun, the leader of the team, remarked: "We are honored to be recognized in this way by the Defense Innovation Summit: the feature of our product which makes it stand out is the ability to target only select bacteria — such as those responsible for unpleasant odors — while leaving other beneficial bacterial colonies completely unharmed."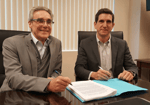 April 2017
Giner ELX Secures Strategic Investment from H2B2
Giner ELX has announced a strategic investment from H2B2. H2B2 has offices in California and Seville, Spain, and focuses on developing, integrating, financing, building and operating hydrogen production systems. "Our partnership with H2B2 will accelerate the scale-up of our technology to win in the marketplace", said Andy Belt, the CEO of Giner ELX; "We are delighted to deepen our relationship with Giner ELX", commented Javier Brey, the CEO of H2B2: "In our direct experience Giner ELX's PEM electrolysis technology is the most advanced in the world. With the benefit of H2B2's capabilities in complete system integration and major project leadership, we will be well positioned to take advantage of attractive project opportunities worldwide."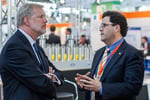 April 2017
US Under Secretary of Commerce and Trade Visits Giner ELX Booth at 2017 Hannover Fair
Kenneth Hyatt (left), US Under Secretary for Trade and Commerce, talks with Hector Maza, Giner ELX VP for Sales and Marketing, at the 2017 Hannover Fair. Hector is explaining the success story of Giner ELX in front of a prototype of the 5 MW Kennebec PEM electrolysis stack.

April 2017
Giner Spins Out Giner ELX to Pursue Renewable Energy Storage Market
Giner Inc. has announced the formation of Giner ELX to specialize in large-scale hydrogen generators for renewable energy storage and other industrial applications. "The formation of Giner ELX builds on Giner's successful commercial PEM electrolysis business", said Giner ELX CEO Andy Belt. "We are focusing the ELX team on developing the lowest cost and highest performance grid-level energy storage solutions on the market."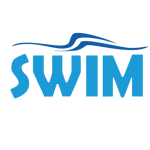 August 2016
Giner at NEWIN'S Water Pitch Night
On August 17, 2016, Technical Director of Sensors Badawi Dweik, Ph.D. and Program Engineer Guray Guven, Ph.D. presented Giner's water quality sensor technologies at New England Water Innovation Network's (NEWIN) Water Pitch Night at the Massachusetts Clean Energy Center (MassCEC). NEWIN's Water Pitch Night highlighted novel solutions addressing nitrogen pollution and coastal water quality.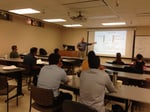 August 2016
Dr. Guray Guven Presents at the Electrochemically Active Biofilms Workshop
Dr. Guray Guven, Program Engineer at Giner, Inc., presented an invited lecture "Electrochemistry at your fingertips - without formulas" at the Electrochemically Active Biofilms Workshop during the 13th Biofilms Summer School, August 1-5, 2016. The workshop was organized by the Biofilm Engineering Research Group at the Gene and Linda Voiland School of Chemical Engineering and Bioengineering, Washington State University, Pullman, WA. The workshop provided the academic and industrial participants the electrochemical techniques used to study extracellular electron transfer in the electrochemically active biofilms that are used in microbial fuel cells and other bioelectrochemical systems.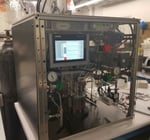 July 2016
Giner Static Vapor Feed Electrolyzer Proposal Selected by NASA for Parabolic Flight Testing
Giner, Inc. has developed an advanced static vapor feed electrolyzer system that has significantly simplified operation compared to traditional electrolyzer systems including the liquid water feed Oxygen Generator Assembly (OGA, Hamilton Sundstrand) being used for life support oxygen aboard the International Space Station, ISS. NASA has granted Giner $234,000 to test their prototype for robustness and performance during two separate parabolic testing (vomit comet) flights on the S3 Reduced Gravity Aircraft.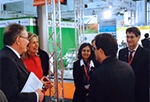 April 2016
US Deputy Secretary of Energy visits Giner's Booth at Hannover Fair
Elizabeth Sherwood-Randall, US Deputy Secretary for Energy (second from left), and Sunita Satyapal, Director of the Fuel Cell Technologies Office at the US Department of Energy (third from left), talk with Giner's Hector Maza (second from left with back to photographer), Director for Business Development and Monjid Hamdan, Director of Engineering (first from right).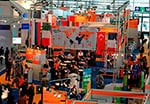 January 2016
Giner at 2016 Hannover Fair in April
For the fourth year running Giner will exhibit in the Hydrogen Hall at the Hannover Fair from April 25—29 2016. Sales and Marketing VP Hector Maza and Engineering VP Tim Norman will each make presentations.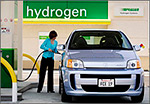 August 2015
Giner On-site Hydrogen Generators to Power Fuel Cell Cars in California
Giner will supply 2 turnkey hydrogen generation systems to Hygen for installation at fuel cell vehicle refueling stations in California.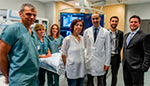 July 2015
Team at McGill University Hospital Uses Giner Technology for First Islet Cell Transplant in Quebec
"Our team advanced the established protocol by using a Giner Portable Pancreas PersufflationTM system – a new piece of technology that keeps the pancreas oxygenated after it is recovered from the donor and before the islets are isolated", says Craig Hasilo, Manager of the Human Islet Transplant Laboratory. "We believe this resulted in better quality cells being transplanted, thereby reducing the need for multiple infusions." More on the McGill website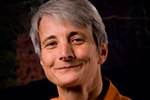 February 2015
Jill Smith joins Giner Board of Directors
Jill brings an exceptional experience base and record of achievement in international management in technology industries. Most recently she served as Chairman, CEO and President of DigitalGlobe Inc. (NYSE: DGI), a global provider of satellite and imagery products and services that she guided to a public listing.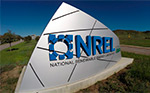 October 2014
Giner Tests Largest Commercial PEM Stacks at National Renewable Energy Lab (NREL)
Giner announced successful testing of 3 of its Merrimack stacks at NREL in Golden, Colorado. These stacks, the largest commercial PEM electrolysis stacks on the market, demonstrated performance at high current densities whilst producing hydrogen and oxygen at differential pressure.